Case
The Belgian Data Protection Authority (Belgian DPA) is responsible for compliance with the data protection regulations in Belgium. Every day, it deals with high volumes of questions from the public about data protection. It has prepared answers to frequently asked questions and interpretations and clarifications on the law. However, specialists at the Belgian DPA spend a lot of time answering similar questions that have already been discussed in the past.
The problem
The Belgian Data Protection Authority receives questions requests from citizens and organisations via email. These questions need to be linked by an expert to certain ruling and legislation, after which an answer is presented and published on the website. 
Many of the incoming requests have already been published, and in these cases, the expert spends time simply linking the previous publication(s) to the incoming request.
The Belgian Data Protection authority wanted to explore the possibility of using an intelligent agent integrated into a website, which could automate this. The agent would need to start a natural conversation and, in an intelligent way, guide the conversation to the relevant publications and documents.
Our solution
We used machine learning to solve this problem. Firstly, we modelled the topic. This meant we could identify the relevant theme in the data protection legislation. We used this information to steer the questioning and conversation. Secondly, we created an intelligent agent. This was used to mine information and steer the conversation, functioning in several languages. If the interaction with the user did not resolve the question, the intelligent agent presented the user with a search function to retrieve relevant publications.
Work performed
Examining the underlying structure of document collections

Intelligent agent

High-precision search engine
How we added value
We provided a more efficient and natural way to inform citizens and organisations properly.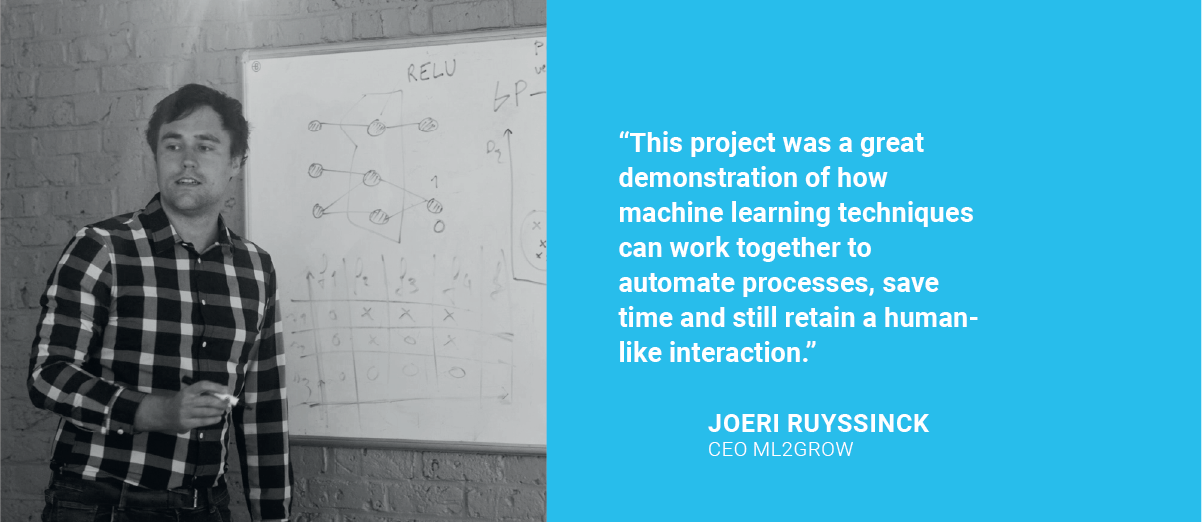 ---